The 2018 Science Fair was the best yet!  Displays were of high quality and the science topics explored and presented were outstanding.  Our volunteer judges had a very difficult task to determine class winners due to the excellent research methodologies and commitment to detail.  At the end of the display period, the winners were announced and are as follows:
3rd Grade             4th Grade      5th Grade        6th Grade             7/8th Grade
1. Mariza & Camille.    1. Zara           1. Maria            1. Jeya & Lenika       1. Andrew
2. Jonah & Chris      2. Gabby        2. Yasmin          2.Nitin & Chirag        2. Isabella A & Isabella M
3. Lily                  3. Marlin         3. Azaria          3. Tahiyat               3. Sophia & Brooklyn
The overall wining Science Fair entry was awarded to Andrew in Grade 7/8!
Congratulations to the winners and to all contributors for your excellent efforts!
Faster...Higher...Stronger!!  Thanks to all the parents, friends and families who came out to support our student athletes in their pursuit of athletic excellence and friendly competition.  We all had a great day celebrating sporting achievement and new personal bests.  Congratulations to all participants!
As an inspiring activity that gets students geared up for our Sports Day, all students participated in the Warm-Up Challenge to see which class and which House Team would prevail in presenting their best routine.
Class winners were Grades 3 and Grades 7/8.
House Team winner was the Blue Dolphins.
Congrats to all for a great display!!
---
Our annual Food and Toy drive has been an incredible success!!  Each classroom was tasked with donating food and new toys for many of our local families who are in need this holiday, an they will not be disappointed this holiday as our students and families have reached deep and made incredible donations!  The classes wrapped their gifts and they will be delivered Dec. 5th and Dec 7th to a variety of families around the island.  We want to thank the Junior Student Council and their teacher leaders for organizing this heat-warming event; Mickey Weintraub, who is the distributor of the monies we raise throughout Mickey Funds; and the SKI PTA who helped greatly by donating the baskets, wrapping and more.  Most importantly we want to thank the SKI Academy families for their incredible generosity!  Again, we have so much to be thankful for - it is nice to be able to help our local families during the holiday season.  
---
We were very happy to have Brandon Grayson join us on the afternoon of Nov. 23rd to speak about his experiences in a recent visit to Dominica.  It was especially timely as we celebrated Thanksgiving Day with our American cousins.  We were reminded of why we should be thankful for everything we have, especially in light of the tribulations suffered by the peoples of Dominica, who were so impacted by the recent hurricanes.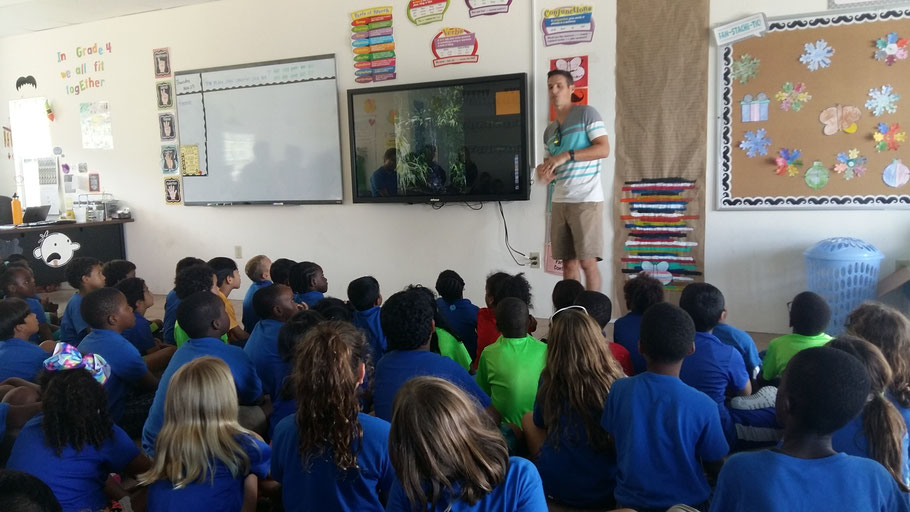 ---
SKI Academy's "boils and ghouls" had an entertaining afternoon on the 31st.  A costume parade with 5 categories of winners, an amazing haunted house put together by the high school students and Gr. 7/8 and an afternoon dance were all part of the spook-tacular events this past Halloween!
---
Game 1 Final Score:  SKI Academy 3 VS. Estridge 3
Game 2 Final Score: SKI Academy 1 VS. Beach Allen 4
Game 3 Final Score: SKI Academy VS. Tyrell Williams
Game 4 Final Score: SKI Academy VS. Dieppe Bay
Game 5 Final Score: SKI Academy VS. Joshua Obadiah Williams 
All games are played at Newtown Field.
---
Both the lower and upper elementary Spelling Bees were a great success and students and staff were treated to some nail-biting competition.  In the G1-3 category, Brody Warner came away as the top speller and in the upper elementary, where the finals came down to two magnificent spellers who battled back and forth until our winner, Tahiyat Chy came out victorious.  We actually ran out of words from last year's National finals as both Tahiyat and Isabelle showed their knowledge spelling conventions - the US Scripts words were employed to determine the winner.  Congratulations to all competitors and winners and we look forward to watching Tahiyat represent SKI Academy on Thursday in the Nat'l Spelling Bee!
---
Each week the class reps get together to prepare our collected recycling items and sort them for pick up.  They are a dedicated group of environmentally aware students who promote the importance of recycling at home, school and in the community.  Parents are invited to send in their recyclable items on the first day of each week.  We accept plastic bottles, containers and bags; corrugated cardboard; and metal tins.  No glass items, please.  Also, you are asked to rinse out bottles and containers before sending to school.  
---
Dr. Joy Woodley came to SKI Academy on Wed. Oct 18th to give a presentation on the importance of Cancer Awareness and how early detection can save lives.  The students enjoyed listening to Dr. Woodley and her interactive demonstrations.  Soon afterwards, we all went out to the Flats to form a Cancer Ribbon.  Well done everyone!
On Oct. 2nd and 3rd, the students in grades 1-6 visited the Hope Logos as it was docked in port for a week, lending it's voice and support to the peoples of St. Kitts and Nevis.  The students loved the interactive presentations and dancing as well as the opportunity to purchase some excellent quality books from the travelling library. We look forward to the return of Hope Logos sometime in the near future. 
---
The Total Amount Raised by SKI Academy students and families was an incredible….
$3, 247.27 EC
Three large shopping carts of household goods were purchased with these funds and will be delivered, by ship, to Dominica tomorrow.
THANK YOU SKI TEAM!!!!!
---
Last week we had some unexpected visitors to SKI Academy.  A grist of bees showed up after classes began and immediately set to work building a hive in on of our palm trees!  After about 1 hour, this was the result...amazing!  We were happy to have the Bee Man of St. Kitts come to remove the bees shortly after they were discovered.  We are equally happy to report that the bees were not harmed and will continue to do their important pollination work on the island.